It's
Jindie Nails
Week here at Not Without My Polish! Jindie Nails owner Jen is a polish maker from Pensacola, Fl, and she's quickly rising among the ranks. Jen has a wide range of colors, each one amazing and beautiful in its own right. She comes up with new colors frequently and will also work with you if you want a custom shade, which I took full advantage of :-). Jen also has great customer service and is fast when it comes to answering questions. I was able to tell quickly how much she cares about her customers and their polish needs. You should check out her line of colors - I guarantee you'll not only find something you'll love but also polishes you've never seen before!
Jen sent me a few of her polishes for review and since I like them so much, I'm devoting a whole week to them.
The fist polish I want to show you is Happy Dance. Here's the official description from Jen's Etsy store:
"Happy Dance has red, hot pink, teal and grape purple matte satin glitters in a white creamy base."
It's. So. Awesome. I've been obsessed with glitters suspended in a white base, and this one doesn't disappoint one bit.
Happy Dance applies like butter - the first coat is sheer, but the polish builds really well. I only used two coats for my pictures, since I liked the amount of glitter and the milky, soft look of the white. You'd think the larger red hex glitter pieces would be hard to get out and needed to be placed by hand, but they actually stick the brush well and are easy to apply.
If you love white polishes with glitter as much as I do, this one should go on your wish list! It would be a great addition to any stash.
Here is two coats of Happy Dance, over a base of Orly Bonder and topped with a coat of PRO Fx High Gloss Top Coat: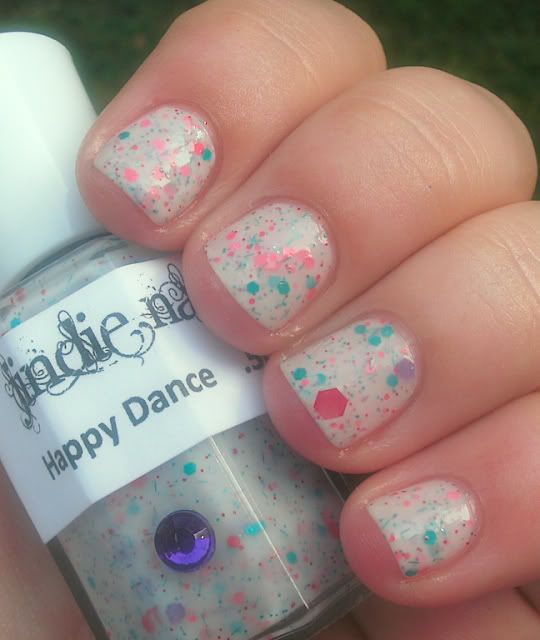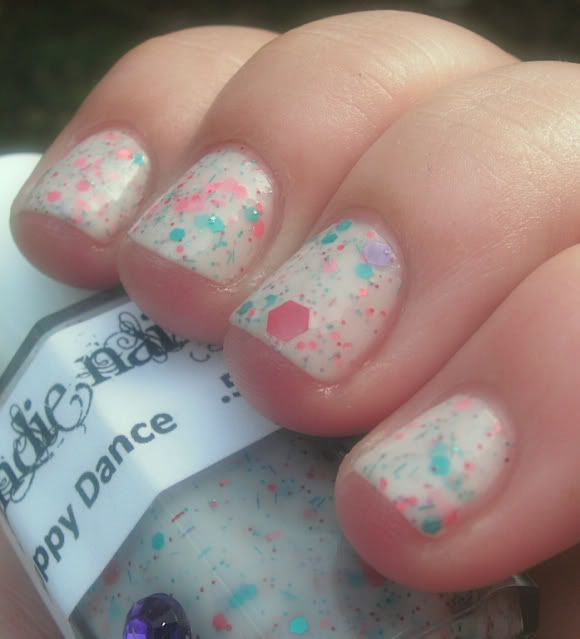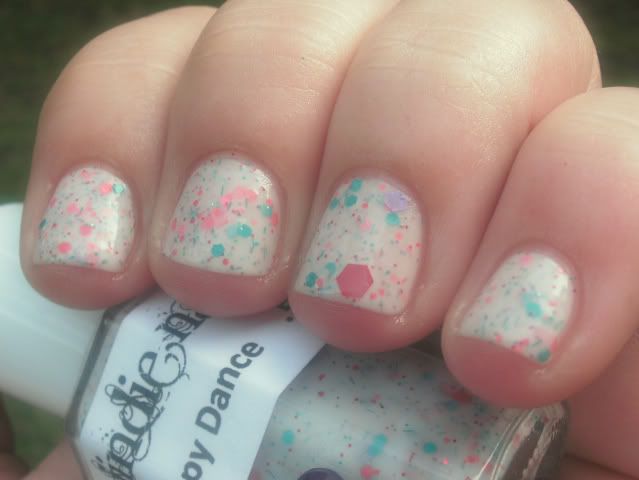 I had to swatch Happy Dance over a coat of plain white to see what it looked like. Of course it was amazing! The stark white really made the glitter pieces pop. I swatched two coats of Happy Dance over one coat of Sally Hansen Insta Dri in Whirlwind White.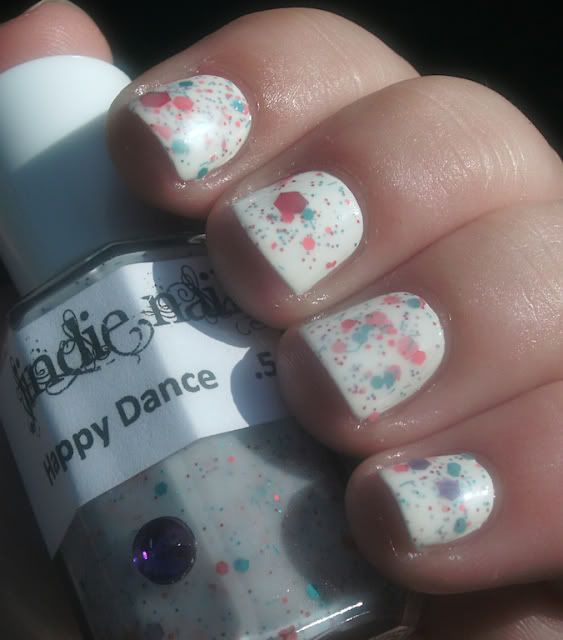 If you'd like to check out some of Jen's polishes, you can find her on Facebook, Twitter and, of course, Etsy.
I hope you enjoyed this post and check back tomorrow for another awesome polish by Jindie Nails!