Welcome back to another day of Jindie Nails Week! I wish this could continue for a while, Jen's polishes are so much fun to swatch.
Today I have Check the Candy for you, a polish from Jindie Nails' Halloween line. Jen describes Check the Candy as:
"...
barbie pink, hot orange and neon blue matte glitters in a white jelly/cream base."
As with all of Jen's polishes I've swatched so far, I love it. It goes on like butter, and is opaque enough so you can wear it on its own after two to three coats. Check the Candy is such a fun polish, I can't wait to order the full-size bottle!
I'm going to show you Check the Candy both by itself, and layered over a white base. First, here's three coats of Check the Candy, over Orly Bonder and topped with Seche:
While Check the Candy looks great by itself, a white base really makes the glitters pop off the nail. I layered two coats of Check the Candy over one coat of Sally Hansen Whirlwind White: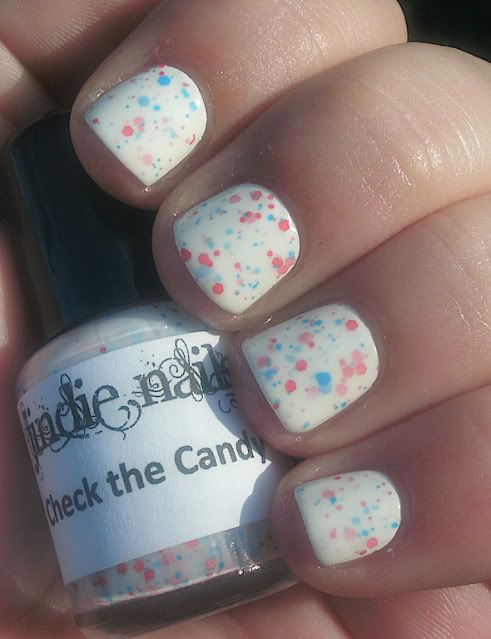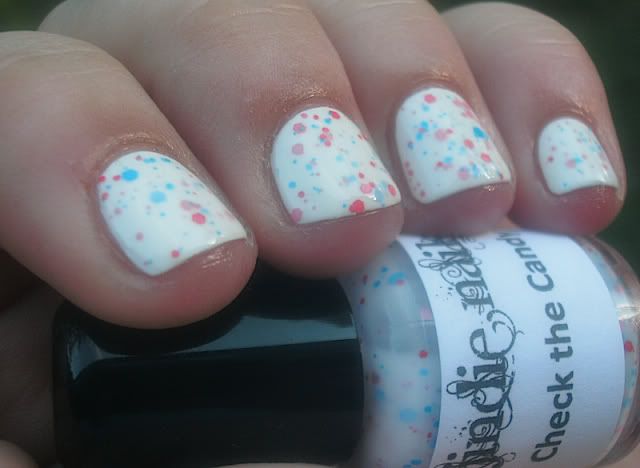 Isn't it gorgeous? Come back tomorrow for a custom polish Jen made for me, that will soon be available to everyone!