All good things must come to and end, and unfortunately today is the final day of Jindie Nails Week.
I've really enjoyed this week and being able to put the spotlight on a local-to-me polish maker. I cannot rave enough about Jen's polishes - they're extremely well made: No bleeding/curling/sinking glitters, and all apply well. Plus, at $7.75, they're a tad cheaper than most indie polishes, which is a nice bonus (although I would pay more for them, they're that great).
Of course, I saved the best for last, and by "best" I mean "custom polish!" Jen was kind enough to blend a special mix of glitters just for me, and it turned out fantastic! I requested small pink and black hex glitters in a clear base - if you follow Jindie Nails on Facebook , you might have seen a picture of it before. I'm so excited to it to you! Jen named the polish "Barbies Have More Fun," and I think it's the perfect name.
I layered Barbies Have More Fun over a couple of different polishes, first, I added two coats of it to one coat of Orly Snowcone, a sky blue. I topped it with Pro FX top coat: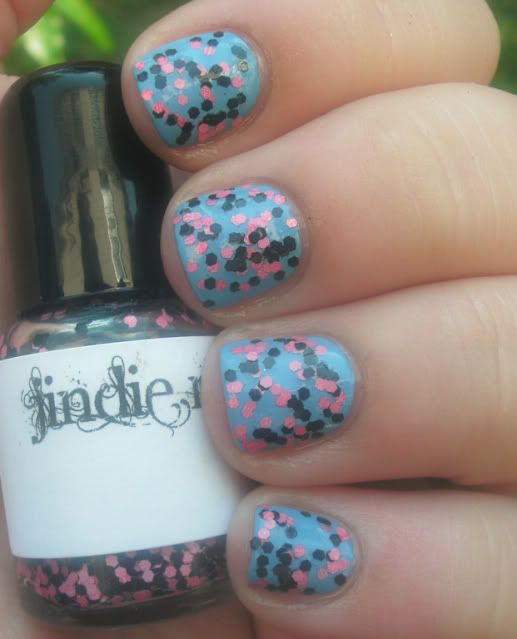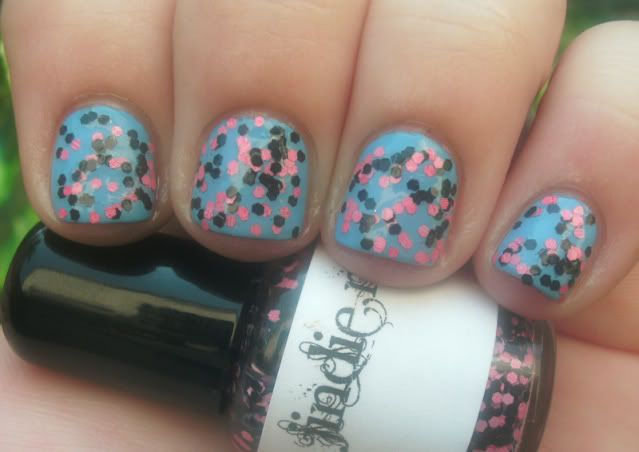 Isn't it pretty? I applied the first coat by dabbing the glitter on my nail, since the pieces have a bit of a tendency to stick to each other. I smoothed everything out by applying the second coat regularly, and the coverage was just right.
Next, I layered Barbies Have More Fun over Wet n Wild's On a Trip, a lavender/purple from their Mega Last line. Once again, I topped it all with Pro FX top coat:
Love. And the best thing about this polish? You'll soon be able to purchase it yourself! There's no set time for when it will come out, but keep checking Jen's store for updates.
I sure hope you all enjoyed Jindie Nails Week here on my blog, I sure did! If you'd like to order any of the polishes I swatched this week, you can order them from the Jindie Nails Etsy store. For updates on new polishes and re-stocks, make sure to follow on Facebook and Twitter.