I've just recently started getting into collecting butter LONDON polishes, and I'm still catching up on old releases. Today, however, I've got one of their brand new polishes to show you, Scallywag from their 2012 holiday collection. The website calls it turquoise, but I think it's much more of a bright blue.
Scallywag is packed full of glitter and is opaque in two coats. It dries to a sandy, not-quite-gritty finish, that I think looks absolutely beautiful. It looks great with a shiny top coat, however I prefer the semi-matte look.
Applying it was a bit of a pain, since my bottle of Scallywag is rather thick and goopy. I'm glad it covered in two coats! Some thinner would probably make a world of difference.
Application issues aside, it's a great color. I love the finish! I couldn't stop looking at and touching my nails while I was swatching.
Here are two coats of Scallywag, over a coat of Orly Bonder: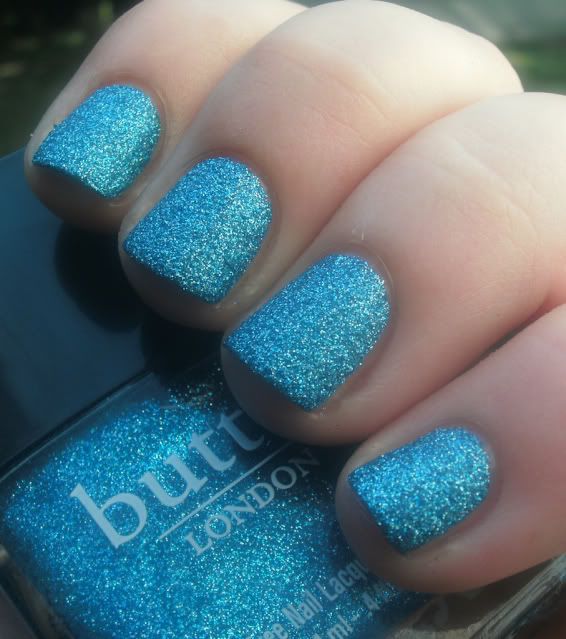 Isn't it gorgeous? Told ya it looked great by itself :-)
I also took a couple of pics after I added a coat of Pro FX top coat. It probably could have use another one, since the finish was still a bit dull: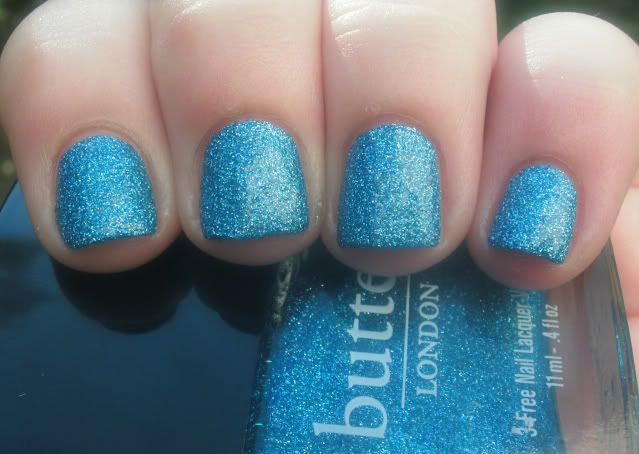 So gorgeous. There are another couple of colors from the collection I'm interested in, and if they're anything like Scallywag, I can't wait to get them!