Yay! A Dollish Polish! I was so excited to snag one. I told myself I could order only one color, so I picked Why'd it have to be Snakes.
Here's the official description from the website:
"This mossy,Olive Green frost is jam-packed with ultra fine glitters in varying shades of Green and gold giving it a reptilian type of look."
Sounds great, and the polish certainly delivers what's promised. The shade of green is gorgeous, and the glitter looks great.
The name, of course, comes from Indiana Jones' extreme, shall we say "disdain" for snakes.
I don't know about you, but just thinking about the "Why'd it Have to be Snakes" line from the movie puts a big smile on my face. Poor, poor Indy. :D
Anyway, on to the actual polish. Application is like butter, I used two easy coats for my pics.
Taking accurate pics of the polish however, isn't that easy. I had one heck of a time capturing its awesomeness. I just couldn't get the glitter go come out and play like I wanted it to. Trust me - Why'd it Have to be Snakes looks absolutely amazing in real life. Here it is, two coats over a coat of Seche base (excuse the shiny cuticles, it's oil):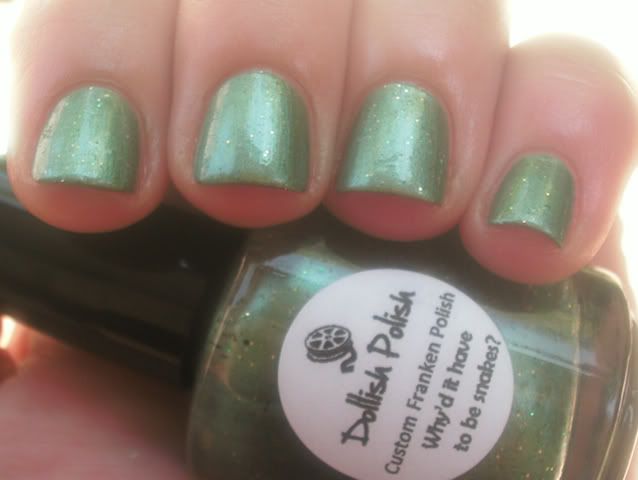 I wanted to see if layering Why'd it Have to be Snakes over a coat of black would alter the color at all. In case you're wondering: no. But here's a pic of it anyway - Snakes over one coat of trusty ol' Wet n Wild Black Creme: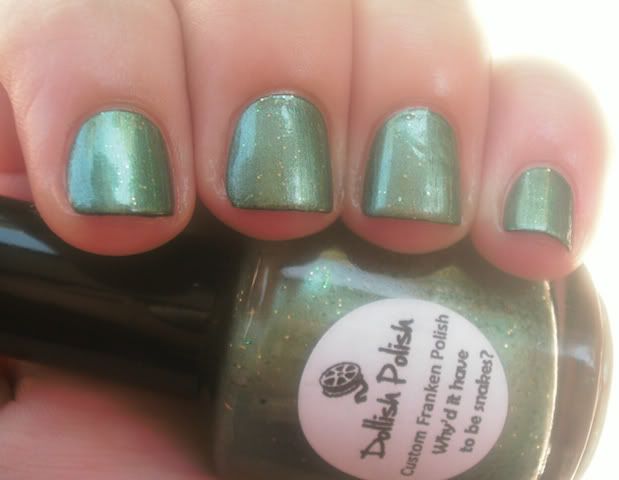 So that's Why'd it Have to be Snakes. Since taking these pics I've acquired two more Dollish Polishes from a blog sale and cannot wait to share them with you!