First things first - when I hear the word "sashay," I think of this:
And now that that's out of the way, let's say hello to Sashay My Way, from Orly's Flash Glam FX collection.
Sashay My Way is a mix of gold hex and bar glitter in a clear base. The glitter is holo and flashes green and copper/orange. The hex glitter pieces also have a really cool texture:
See those grooves? Neato.
Out of all the glitters in this collection I've showed you so far, Sashay My Way, was the hardest to work with. The glitter pieces didn't want to stick to the brush, so I really had to force them onto my nail. It's worth it, though, because Sashay is super pretty. I love the mix of hex and bar glitters - it reminds me of all the lovely indie polishes we've been seeing lately.
Like Mermaid Tale, Sashay My Way dries super smooth. The edges of the hex glitters don't stick up like sometimes happens with larger glitter pieces, making for a smooth finish.
For my first set of pics I layered one coat of Sashay over two coats of Orly Oui, a purple and gold shimmer. My camera freaked while I was trying to take pics of this, so Oui doesn't look as amazing as it does in real life. Still pretty, though: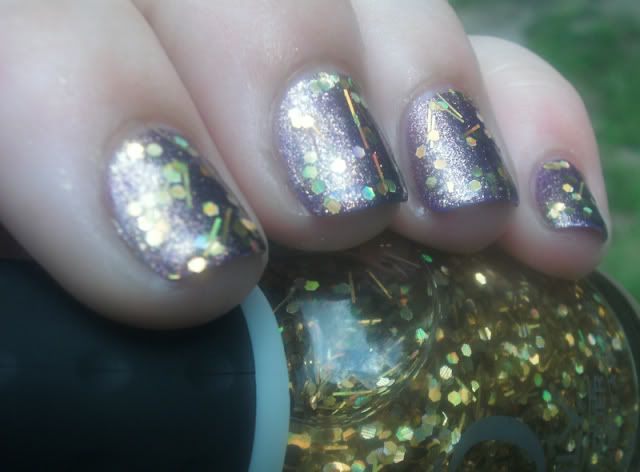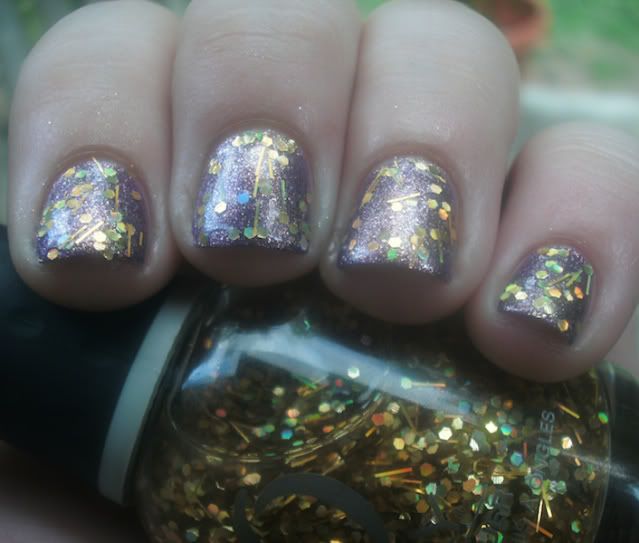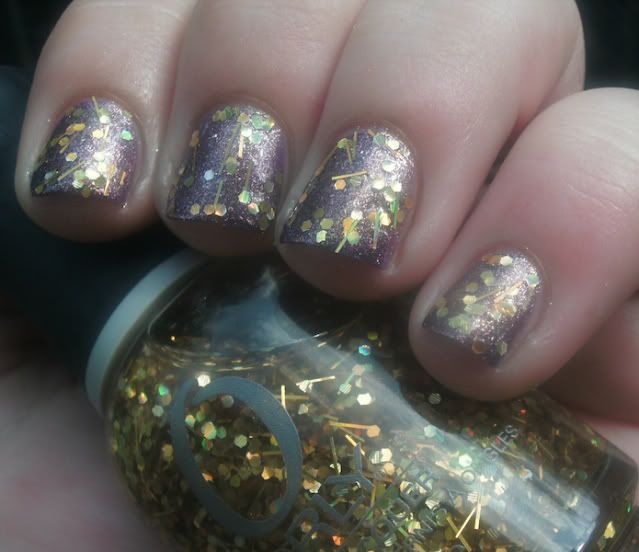 Next, I layered two coats of Sashay My Way over trusty ol' Wet n Wild Black Creme:
Oh, hai. How you doin'? Sashay My Way is pretty much bling in a bottle for your nails. Application issues aside, it's the bee's (golden) knees.
Tomorrow I'll show you the last color in the Flash Glam FX collection I picked up - Can't Be Tamed, a purple and silver glitter. I wish my local Sally's had more of the collection available - I want these posts to keep going!