Be Brave is the first polish from Orly's Flash Glam FX collection I'm showing you. It's a purplish pink holographic bar glitter in a clear base. It's pretty awesome. I know some people really don't like bar glitter, but I can't get enough of it. There are a few polishes in the collection that contain bar glitter, so far I only have this one and Sashay My Way which I'll be showing off later this week.
Be Brave applies like any chunky glitter - the base is thick, and the glitter goes on sparse. One trick I figured out during application is to swirl the brush in the bottle before you apply the color. That way, much more glitter will stick to it and you won't have to use as many coats of polish to get your desired coverage.
I'm showing off Be Brave over Orly Purple Crush, a bright, almost neon pinkish purple. I think it works great as a base color, but Be Brave will look great over almost anything.
Here's two coats of Be Brave over Purple Crush, no top coat.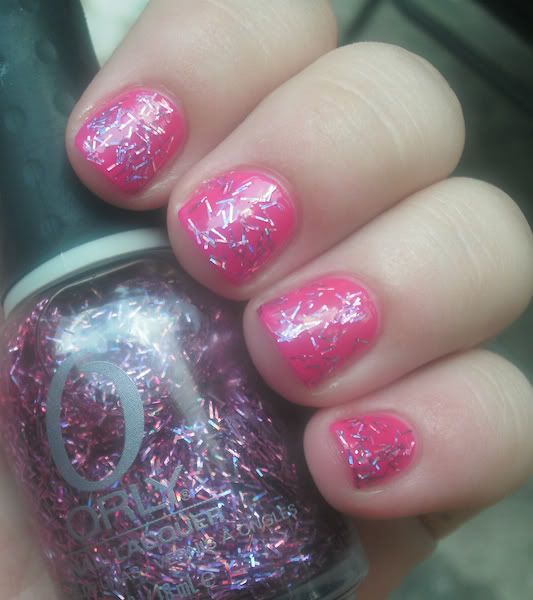 I love Be Brave! Actually, all the glitters from the Flash Glam FX collection are amazing, Orly really outdid themselves.
My next swatch will be Spazmatic, a chunky blue hex glitter - can't wait to show it to you tomorrow!