Orly After Party is the only non-neon polish in Orly's Feel the Vibe collection besides Dayglow. It's a black base with pink and blue shimmer. I wasn't sure if After Party was a great choice for a summer collection, but once I wore it, I was won over. The multi-color shimmer makes the black base "summer-appropriate" and gives it that little something extra that makes it special.
The color shimmer in After Party is really nice and noticeable. With some polishes like this, the black base color covers up most of the shimmer, but not in this one. Good job, Orly.
Another great thing about this polish is the formula. It's incredibly forgiving and self-leveling. While applying it, I thought the first coat would end up streaky the way the polish was flowing onto my nail. Once it was actually on the nail, though, it leveled out and covered any bald spots beautifully. After Party can definitely be a one-coater!
For my pics, I used two coats of After Party over a coat of Seche, no top coat.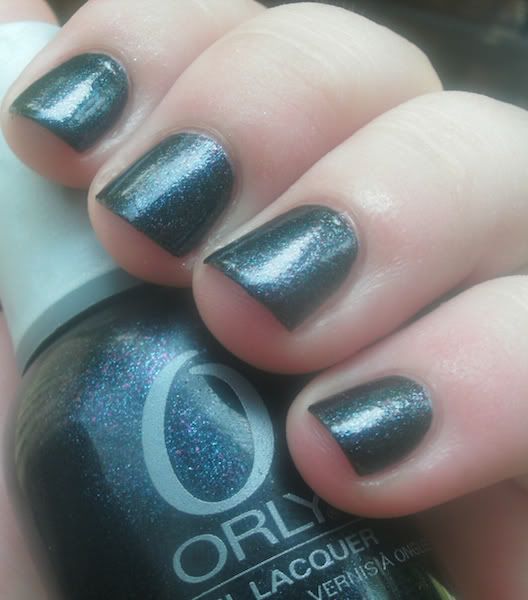 By the way, Orly After Party is kicking off Orly Week here at Not Without My Polish! For the next few days I'll be showing you some of the new Flash Glam FX line - a collection of five gorgeous glitters. They're all really beautiful and I can't wait for you to see them!