Scented polish, I think, is one of those trends like crackle that get resurrected every few years. I vaguely remember having some as a kid, and not liking it then. Their fake smell was either vomit or headache inducing. I did pick up a couple of the new scented Revlon polishes, but I bought those for the colors and not the scent. They actually didn't smell too bad, so I decided to give other scented polishes a try.
I found Blueberry and Cotton Candy at a Rite Aid, tucked away on a bottom shelf. There isn't a manufacturer's name on the bottles, but they're distributed by Blue Cross Beauty.
There were several other scents, but these two stood out to me because they have glitter in them.
Blueberry is, well, blue. It's got tiny, tiny bits of holographic glitter. When the light hits it right, Blueberry also has a pink sheen to it, and I'm still trying to figure out if it comes from the glitter, or the actual base color. Cotton Candy is a very green leaning teal with the same tiny glitter. Both polishes dry matte. The glitter makes the finish
look
really gritty, but it really isn't. Even matte, both colors really pop. They look great.
Application was much better than I thought it would be. I thought Blueberry and Cotton Candy were both opaque after two coats, but after looking at my pics, it seems you can see some VNL in direct sun light. The formula was a bit runny, but workable, and self-leveled nicely. You do have to let your first coat dry before applying the second one, or you'll get drag marks.
Here's Blueberry, two coats over Seche Vite, no top coat: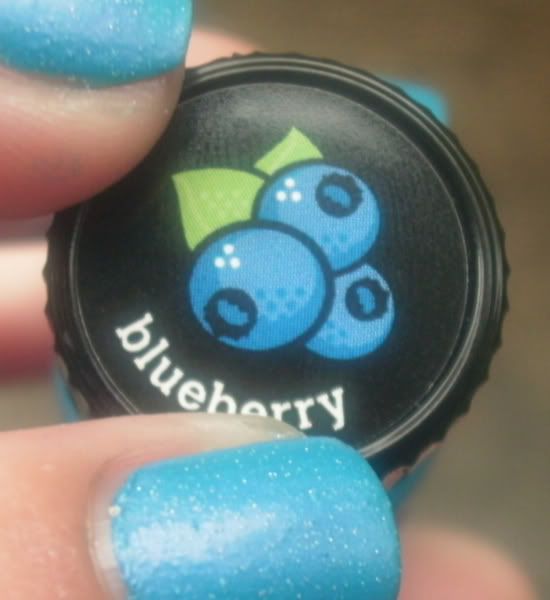 Here's what Blueberry looks like with one coat of Seche Vite top coat: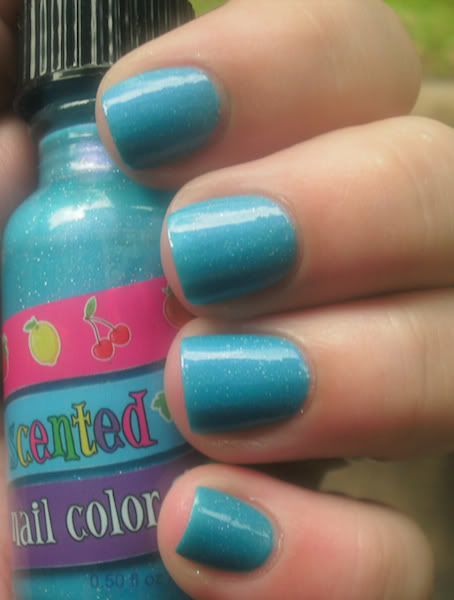 So pretty! I wish I could have captured some of the pink it occasionally flashes better, alas it wasn't meant to be.
On to Cotton Candy and again, two coats over one coat of Seche Vite, no top coat. I looks a bit greener in my pics than it really is, but not by much:
Here it is with a coat of Seche Vite:
I like both colors, but Cotton Candy is my favorite. As for the promised scents? They're not too bad. Both smell really sweet out of the bottle, but when dry, they almost smelled like what they're supposed to. Cotton Candy was closer than Blueberry, though. I didn't get a chance to see how long the scent lasts, since I haven't worn either for a full mani yet.
I don't know if I'll get more of these since the other colors are rather run of the mill, but I love these two. I really like the bright colors! They were either $2.99 or $3.99 so they're a great buy and fun addition to any polish stash. Go get 'em!