First things first: I think every nail polish lover out there needs this polish. Really. It's that awesome.
Nina Ultra Pro's Purple-Xing is one of the best purple glitters I've ever seen. First, it's purple. Second, it's packed with both round and hex glitter. Third, it's a one-coater.
I won't spend much time rambling about this color, I'll let the pics do the talking. Like I said, Purple-Xing is a one-coater, but I used 2 coats for the pics, for extra oomph. No top coat for the pics, although the polish definitely needs one. It dries fairly gritty and for a full manicure I'd suggest two coats of your thickest top coat. Other than drying gritty, application is flawless.
Purple-Xing is less blue than in my pics, it's a true purple.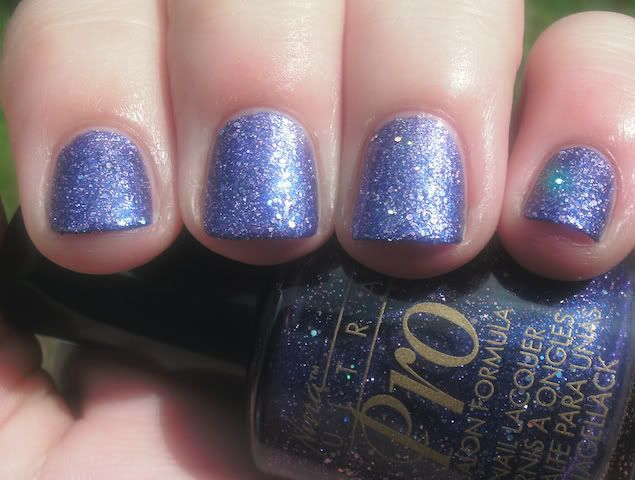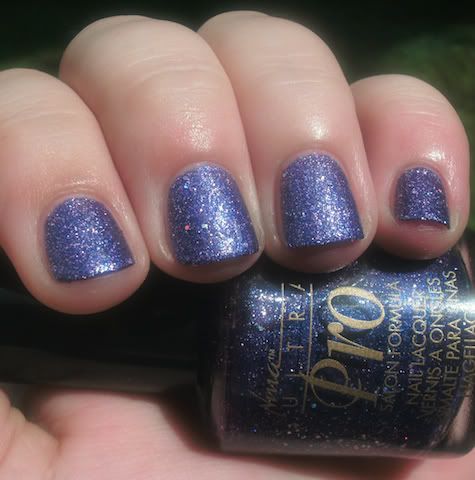 Here's a close-up shot. You can see the mish-mash of glitters, and the gritty texture.
I love this color so much! Definitely one of my favorites. I wish my local Sally Beauty Supply would update their Nina Ultra Pro selection some time, I'm getting tired of looking at the same colors all the time.
Another great glitter from this brand is Glamrock, a silver glitter I swatched here.
I'll leave with you with a sparkly bottle shot of Purple-Xing: