China Glaze Full Spectrum is one of the shades in the Prismatic Chroma Glitters collection. There are six amazing duochrome glitters, and this is the pink shade.
This collection is awesome. All six shades are really densely packed with glitter, ranging in size from teeny-tiny, to larger round pieces. The glitter comes in a multitude of colors, including silver, pink, orange, green and yellow.
Even though the glitter in this polish is packed densely, you'll need at least three coats to build to opacity, two if you're putting them on thick. Full Spectrum's formula is what you'd expect from a glitter polish like this - a bit goopy, but workable. It dries really fast. I didn't have to wait more than a minute after the first coat.
Here's three coats of China Glaze Full Spectrum, topped with two coats of Seche Vite, because the polish does tend to dry gritty.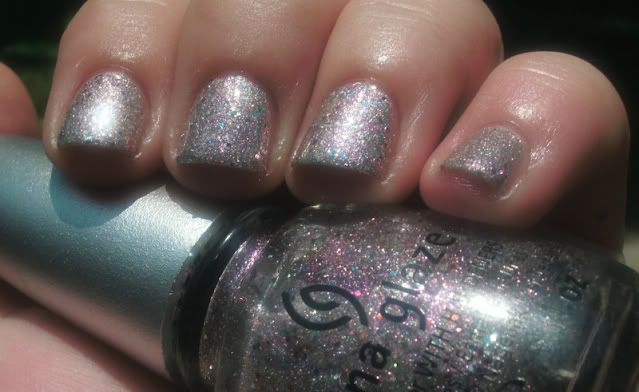 I love this collection so much - for me, every single polish is a winner. I wear them regularly, and get tons of compliments when I do. A warning though, you won't be able to stare your hands when you wear it!