9021 Orange was a surprise find at CVS. It wasn't shelved with the other polishes, but on the bottom of a cart filled with clearance stuff. I had never seen this color before, but the shimmer in the bottle was beautiful, so I had to bring it home with me even though I rarely wear orange. I like the color, it just doesn't look very good with my skin tone, so I try to avoid it. There's exceptions for those times when I fall in love with a color, and this is certainly one of them.
9021 Orange is of course, orange, with a beautiful gold shimmer. It's sheer, I used three coats in my pictures and still had VNL.
Like a lot of sheer shimmer polishes I own, the formula is a bit goopy. The upside is that the polish is incredibly forgiving and self leveling at the same time, so even though application might start out as a headache, things should be smoother by the second coat.
The color itself is absolutely beautiful, it glows. It's gorgeous, I can't wait to layer it over other colors, especially CG's Riveting.
On to the pictures of this beauty, as usual I used Seche Vite base coat, and no top coat. Pics were taken outside, in full sunlight.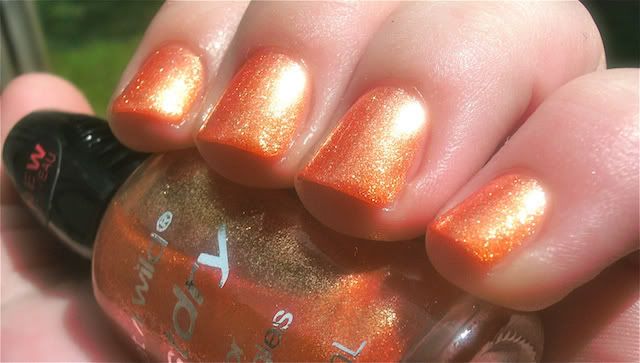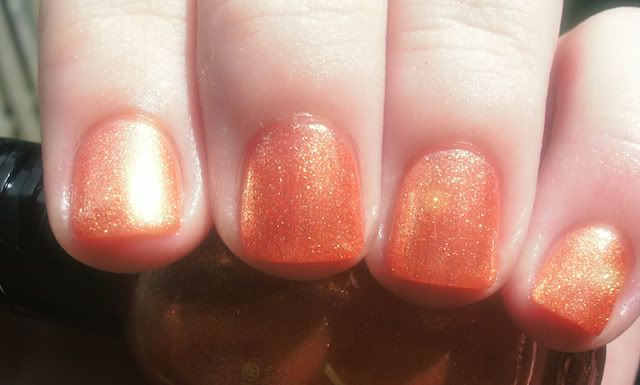 Here's 9021 Orange in the shade, still gleaming: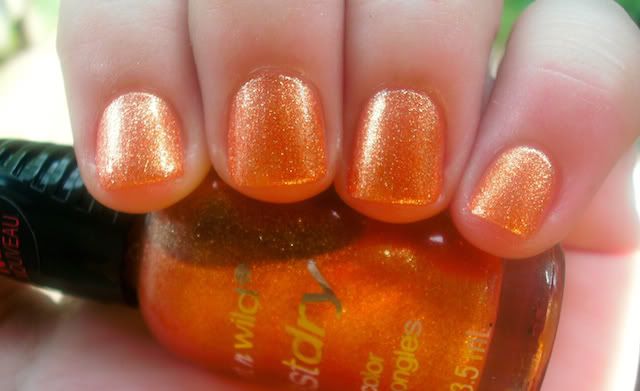 So pretty. Another great drugstore find, and another beautiful color from Wet n Wild. The company has really stepped up its game recently, releasing colors I haven't seen anybody else sell. Like this one!