I've been looking for the Wet n Wild Chrome Collection forever, but I finally found them at a Rite Aid I don't usually go to. I only picked up one so far, Stay Outta My Bismuth.
For reference, here's what Bismuth looks like:
Wet n Wild pretty much nailed making a polish look like its namesake. Stay Outta My Bismuth is a gorgeous light blue with gold flecks. It's reminiscent of Zoya Crystal - but it's lighter, and it's, of course, a "chrome" polish.
Application is so-so. I had major issues with my brush. I could deal with the stiff bristles, but the brush fanned out so much when applied to the nail, I ended up painting my cuticles and the sides of my fingers, too.
The formula itself is fine, just make sure to let polish dry before applying another coat, or you'll end up with bald spots. I used three coats for my pics, but could have probably gotten away with two. There wasn't much VNL showing after the first coat, so more coats really just even out the color a bit.
Here's Stay Outta My Bismuth over Seche Vite, no top coat:
Cleaning up my cuticles from this polish was pretty aggravating. The little flecks of glitter really stick to your skin!
The next two pics were taken in the shade: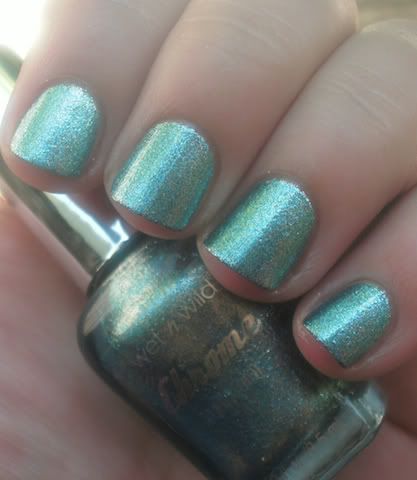 I figured the chrome collection would be perfect for stamping. I haven't used it as a stamping color yet, but it makes a beautiful base. I used Wet n Wild Black Creme and image plate BM 201: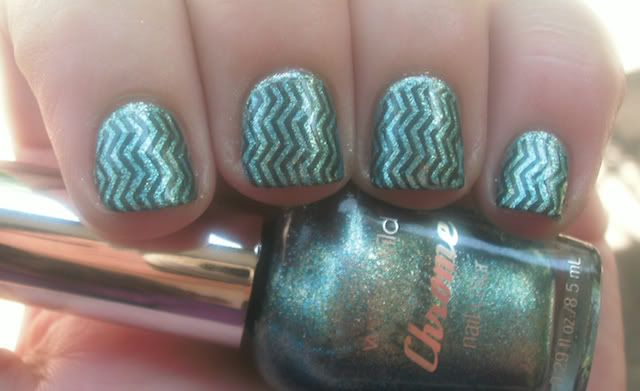 So pretty. I'm definitely getting backup bottles of Stay Outta My Bismuth. The bottles are much smaller than the core WnW colors, and the price is higher, but in this case it's totally worth it. This color is so gorgeous, I'd hate to ever run out of it. And I'll definitely pick up more colors from the line. If you can't find the collection in your area and want to do a swap, let me know, I'm sure we can work something out :-)