I love New York Color's nail polishes. They're cheap, easy to find, and come in a good array of colors. Water Street Blue is a bright, almost turquoise blue. It's really pigmented, and I thought it for sure would stain my nails. It doesn't! It comes off the nail beautifully and doesn't stain one bit.
The formula is, as with all my NYC polishes, pretty good. Not too thick or thin, and the brushes aren't bad either. Most of the time I wear Water Street Blue without a topcoat, because the color lightens up a lot when I do use one. It's still a beautiful color with a top coat, I just prefer to wear it without one. The finish is so glossy on this polish, it looks great by itself.
My pics of Water Street Blue were taken in full sunlight, two coats with a base of Seche Vite.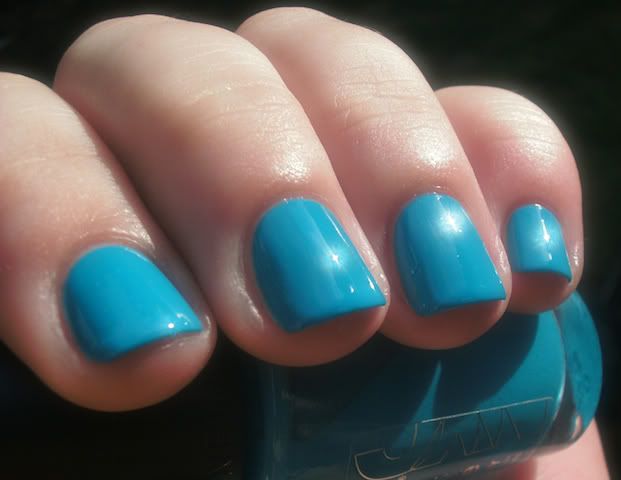 Water Street Blue loves the sunlight, but still looks great in the shade: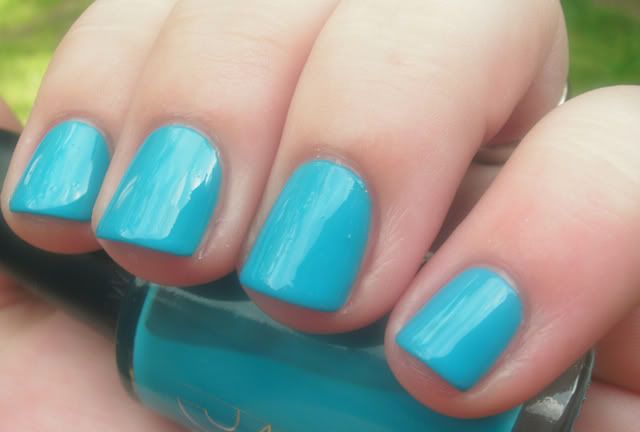 Love. This type of bright, almost turquoise blue is one of my favorite colors ever, and New York Color nails it with this one. It looks great on toes as well, and I'll probably wear it as a pedi for most of the summer. I just couldn't recommend Water Street Blue enough - if you're looking for a super-bright, cheery color, make sure to pick this one up!