Jesse's Girl is a polish brand available at Rite Aid. For the longest time, it didn't even know it existed, since my nearest Rite Aid tucked the display away in a corner, away from the other make-up and polish. I've must a walked by it a dozen times before it finally caught my eye. The selection hasn't been updated since I first found it months ago, and they only carry the main High Intensity line. Bummer, because some of the limited edition JulieG colors look pretty nice.
Confetti is a duochrome glitter, shifting from purple to blue. It's sheer - I used three coats in my pictures. Inside, my nails looked mostly opaque. But when I went outside to take pics, I was amazed to see how sheer they still were. I predict about five coats of polish before Confetti is actually opaque. Sounds like a lot, but it will totally be worth it.
Here's Confetti, three coats, over a coat of Seche Vite.
It looks opaque at this angle, but it's not. The duochrome effect is much more noticeable in real life than it is in these pics. Very pretty.
You can see a little bit of nail line in the shade: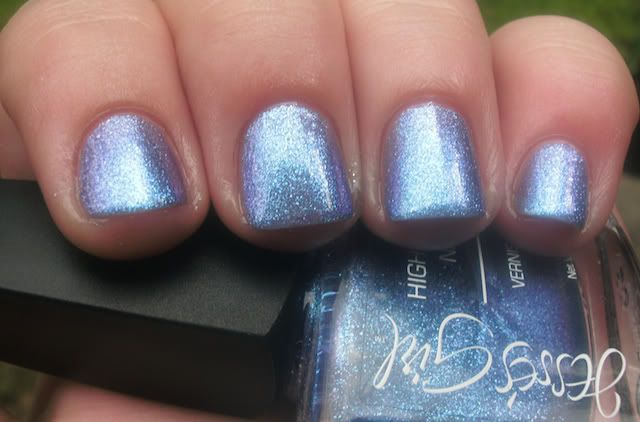 Since Confetti is so sheer, it's great for layering. I went with trusty Wet n Wild's Black Creme as a base:
Layering over black really makes the glitter particles pop! Blue was the dominant color. You can definitely see it shift to purple, but the main color I ended up with on my nails was a glowy light blue.
Shiny! And I'm not even wearing a top coat.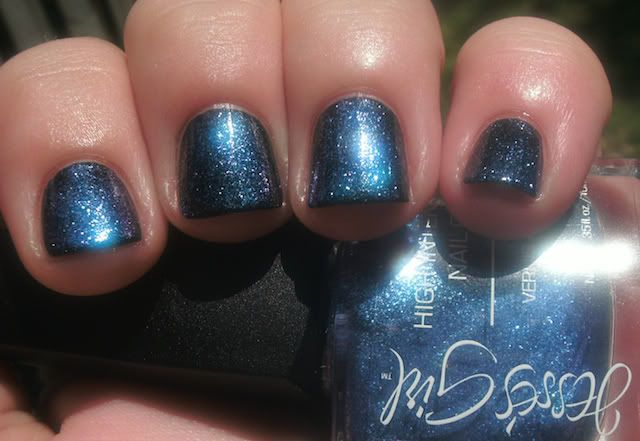 Love it. As pretty as it is by itself, Confetti really pops when layered over a dark color. The formula, while sheer, was spot on. Not too thick, not too thin, and dries pretty well. It can be a bit streaky on the first couple of coats, but it evens itself out on the third.
So far, I've only picked up a couple of Jesse's Girl polishes. I like them, so I hope I get to buy a few more colors soon. There's a great knock-your-socks-off green called Midori that's really tempting. Hopefully, some new colors will start appearing here soon.