Oooh Elixir Lacquers, how I love thee. It's an indy brand, lovingly mixed by the wonderful Nicole of Nail Polish Wars . This is only my second Elixir Lacquers polish, and I can't wait to get more. If you'd like to see my swatches of the other Elixir Lacquers polish Kind of Connery, you can check it out here.
This is a limited edition polish, and I was lucky enough to snag a bottle last time it was on sale. I got bottle #69 out of 70 :-)
Bad Kitty is a light purple with teal shimmer. It's a little darker than shown in my pics - I was standing in full sun when taking them. It's gorgeous. I usually don't go for light shades, but Bad Kitty is an exception. The colors are beautiful and the teal shimmer, while delicate, is great as well.
The description says Bad Kitty is opaque in two coats, but I think I needed another one to not see any VNL. It's great nonetheless, a real eye-catcher. The formula is fantastic, goes on smooth and doesn't drag on the second coat.
Here's two coats of Bad Kitty over Seche Vite, no top coat.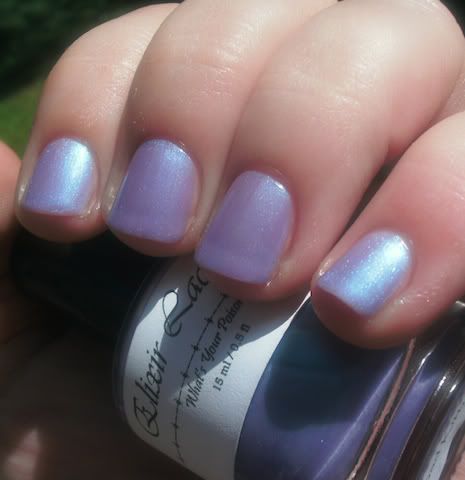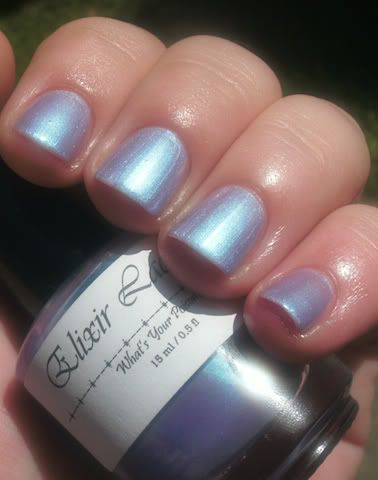 Isn't she a beauty? The polish GLOWS. I think Nicole uses ground up elves as the secret ingredient to make it glow like that.
Since Bad Kitty is kinda sheer, it's great for layering. Here it is over good old Wet n Wild Black Creme: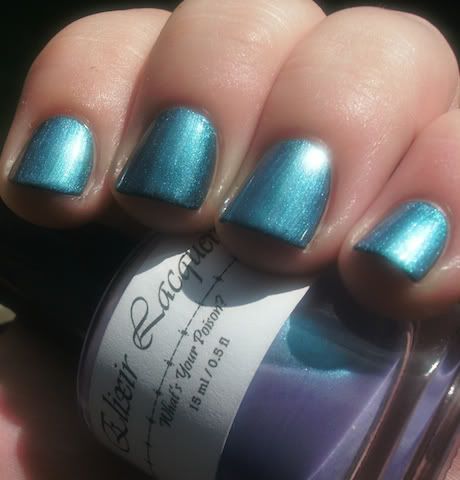 I love the way it looks! The purple in the polish disappears to truly bring out the teal shimmer. Once again, it glows. Elves, I tell ya!
If you'd like to check out the other Elixir Lacquers polishes for sale, you can check them out on the store's website. You really should! Nicole makes beautiful polish, and unlike other indy polishes, ordering is quick and easy. You even get a surprise polish if you order the whole set!
I can't wait to order again - I love supporting indy polish makers. They continually manage to come up with colors and combinations I've never seen before. Support them! The polish world would be much more boring without them.