For a long time, I simply walked by the Borghese display at my local Rite Aid. The bottles look so old fashioned and boring to me, I didn't even pay attention to the shades. Recently, though, they went on clearance, and I decided to check them out. Most of the colors were boring, but I did end up bringing four bottles home with me.
Euro Green is the only one I've tried so far, and now I'm kicking myself for not trying Borghese earlier.The brushes for this polish are amazing: Short, a little wide but not too much, and really stiff. It took me a couple of nails to get used to the stiff brush, but I fell in love with it. The brush makes polish real easy to apply and control. I think I had to do the least amount of cleanup ever for these swatches.
The formula of this polish was good as well, however just a tiny bit streaky. Nothing that can't be fixed with a layer of top coat. It dries really well.
Euro Green is a mossy green with gold shimmer. It's beautiful. I have several gold-tinged greens, but not one like this - it's darker than all the others.
Like I said, application was a breeze, two easy coats for opacity, but one thick coat might do if you apply it carefully.
This is two coats of Euro Green over Seche Vite, no top coat: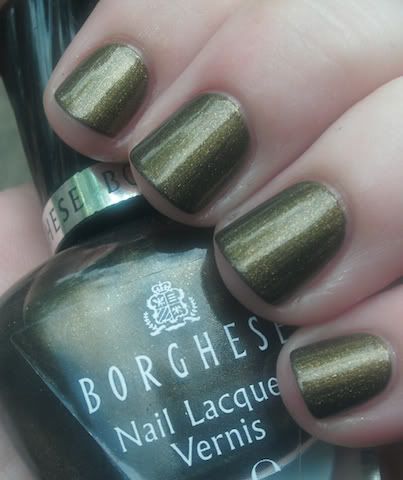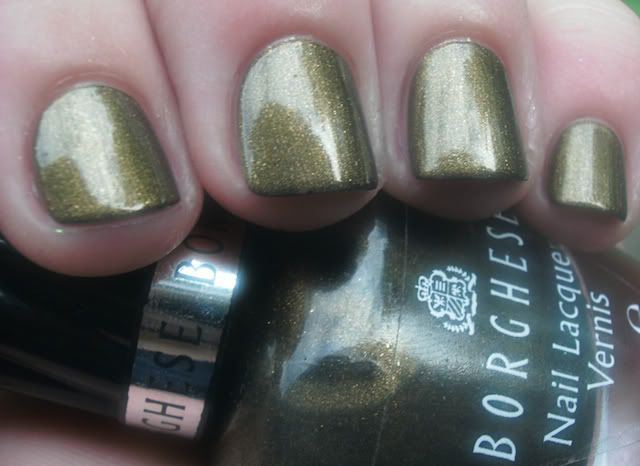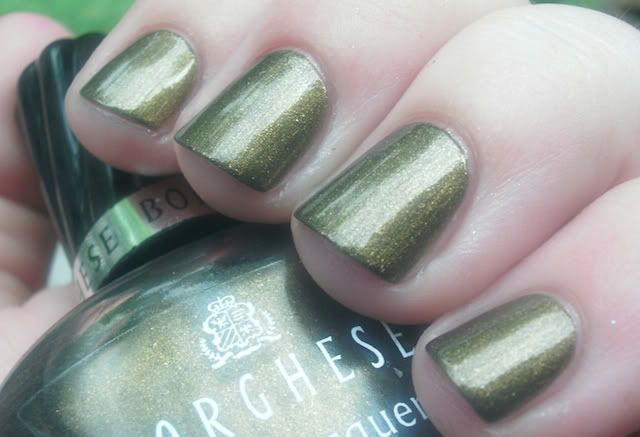 Isn't it just gorgeous! I'm so happy I picked this one up and can't wait to swatch the other colors.